How to use eBook Ultimate for Win
eBook Ultimate Converter Helps you Remove eBook DRM and Convert eBooks to Any Format Easily.
Step 1: Install and Run the Soft
After installation, run the software. You can see the main interface as below.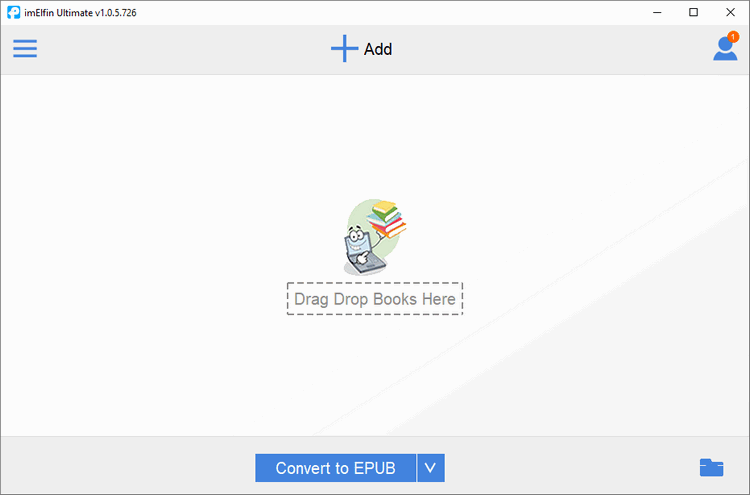 Step 2: Remove DRM from eBooks
This soft can automatically recognize all your eBooks that synced via Kindle for PC, Kobo for PC, Adobe Digital Editions, or eReaders and display the books under corressponding tab at the left side: Kindle (books synced via Kindle for PC), ADE (books downloaded to Adobe Digital Editions), Kobo, eReader, Favorite.
Click on these icons then you will see all your saved books on your computer.
Drag & drop them to the right, and the DRM removing will soon start.
If your books have DRM, you will see "Decrypted" after the drm stripping ended. If no DRM, you won't see them.
Part 1: How to remove DRM from Kindle books
Make sure you have downloaded your books to your computer via Kindle for PC. The default path of Kindle books is "C:\Users\Your user name\Documents\My Kindle Content".
Then, after you run this software, from the left side you will see the "Kindle"tab, and all your downloaded books are saved there. Just drag them to the left, drm removing soon begin.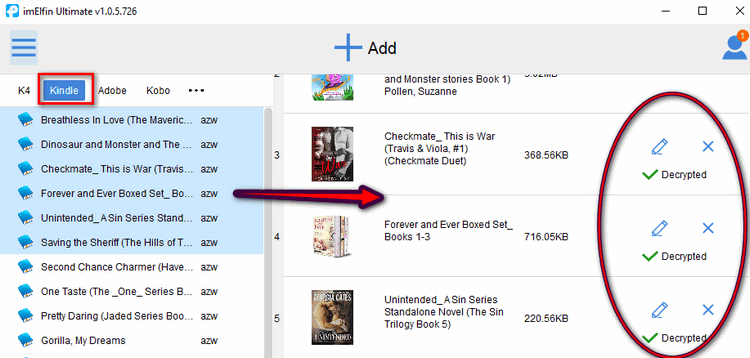 If you want to remove Kindle DRM from Kindle E-Ink readers (Kindle Paperwhite, Kindle Voyage), things are easy to go. After you connected your Kindle device with computer, this soft will soon recognize them.

Drag books from the list below your device name, then this tool can directly remove DRM in Kindle E-Ink readers, no need to manually input Kindle Serial Number.
Update:
It supports multiple Kindle devices plugged in at the same time. Please note: Kindle Fire is not supported.
Part 2: How to Remove DRM from Adobe Digital Editions
In fact, nearly all your books purchased from Kobo, Google Play, Sony Reader and most of online eBooks stores are protected with Adobe Adept DRM. Before DRM removing, please make sure you can read them on Adobe Digital Editions otherwise you will fail the decryption.
Since you can open these Kobo/Sony/Google Play books with ADE, they will be downloaded to your computer:
The default path of Sony books is "...\Libraries\Documents\My Books\Reader".
The default path of Kobo books is "...\Libraries\Documents\My Digital Editions" after you add Kobo books to ADE.
And this soft will list all the books (downloaded by ADE). Drag books to the main interface to remove DRM.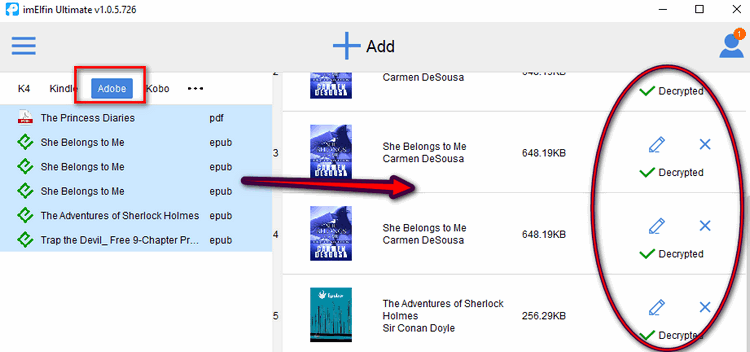 Part 3: How to Remove DRM from Kobo Book
Besides downloading Kobo books via ADE, you also download your Kobo books via Kindle for PC. So if you have downloaded your Kobo books in this way, your Kobo books will be encrypted with the Kobo DRM, not the Adobe DRM. Imelfin Ultimate converter also can remove Kobo DRM.
For these Kobo books will be stored at : C:\Users\your username\AppData\Local\Kobo\Kobo Desktop Edition\kepub
When you run Imelfin Ultimate converter, these books will be displayed under Kobo tab, just drag them to the right column, Kobo DRM will be removed.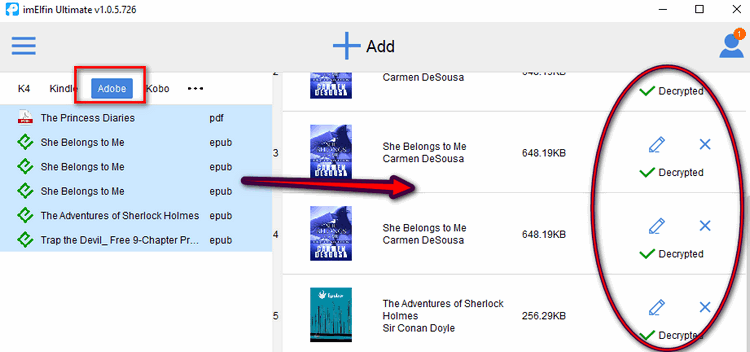 Step 3: Select an output format or output device
Select the format you want from the drop-down list.This software can convert eBooks to ePub, PDF, TXT and Kindle supported Mobi , AZW3 format with high quality.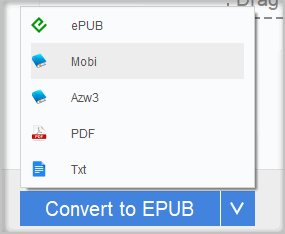 Step 4: Convert your books
When you're ready, click on "Convert to ..." button to convert eBooks.
After you've finished the converting, there will be "Succeeded" at the end of each book. You can either click "Succeeded" or output folder icon at the bottom right to find your converted books.