Only 1 click to remove duplicates in iTunes library, fix iTunes songs tags automatically and orgainse iTunes with ease.
Find album artwork for iTunes auto
Fix songs with incomplete music tags
Show and remove duplicates in 1-click
Display the healthy status of iTunes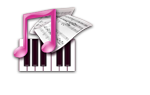 Fix songs without albums info
Quickly detect, show and fix incomplete songs tags information.
Add missing music tags to songs
Once Tunes Cleaner is launched, it start scanning iTunes duplictes, songs without music tags such as album cover, artists, genre, Year, etc and applying all tags to iTunes music in only one click.
Find album artwork & covers smartly
Tunes Cleaner is a nice album art downloader alternative for incomplete songs. Automatically find and download album artwork for songs in the iTunes or external music folders.
Fix songs without music tags
Apply missing info into both purchased songs and downloaded songs. Not only make a compelte iTunes library looks so pretty, but also fix album artwork showing in iPhone (iPhone 6/iPhone 6 plus), iPad (Air), iPod.
Set music files preferences
iTunes duplicates remover completes ID3 tags automatically and also enable to manually customize music tags like Year, Genre, Name, Artist, Album and Cover.
Edit manually
iTunes Cleanup offers user-oriented manual editing so as to accurately and thoroughly fix incomplete songs as easy as ABC.
Powerful online database
It offers one-click solution to locate incomplete songs and apply music ID3 tags into iTunes music library automatically or manually.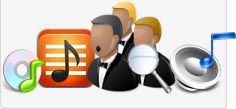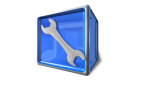 Auto scan and fix music library
Clean up iTunes music library as well as external music folders.
Must-have iTunes plugins
imElfin Tunes Cleaner not only shows and removes duplicate songs in iTunes library (playlist), but also fix iTunes music library without intact tags.
Auto or manual tag songs
As a automatic music tag editor, imElfin Tunes Cleaner also allows users to complete their iTunes collection on Window 8.1 (Microsoft® Windows XP or later). After finishing manual editing, just click the apply button to show fixed music files in iTunes, iPad, iPhone, Android tablet and phones.
Clear duplicates regularly
Set the clean-up options under the settings to remove iTunes duplicates regularly, and this iTunes manager will always keep iTunes tidy.
Advanced duplicate songs scanning
There are two duplicates scanning mode for users to quick scan and deep scan iTunes or external music folder. The deep scan mode adopts advanced digital fingerprinting technology and never let duplicate songs run away!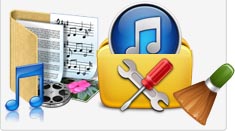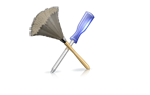 Keep iTunes clean and tidy
Accurately scan iTunes on window, then show and delete iTunes duplicate songs smartly.
Show duplicate songs in 1-click
Choose Clean-up Duplicates option to show all duplicate items, and then eliminate duplicate songs in iTunes or external music library with a simple click.
Remove Duplicates thoroughly
iTunes cleanup tool classify the deep scan into 3 mode: High, Medium, Low. So it allows users to thoroughly delete duplicate songs at will.
Smarter than the others
Depend upon advanced cutting-edge waveform recognition technology and powerful database of fingerprints, it correctly identifies and detects each duplicate songs and complete songs info.
Massive, fast and accurate fix
Powered by powerful online music database, this iTunes Cleaner installer could clean up your iTunes on Mac massively, fast and accurately.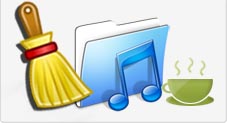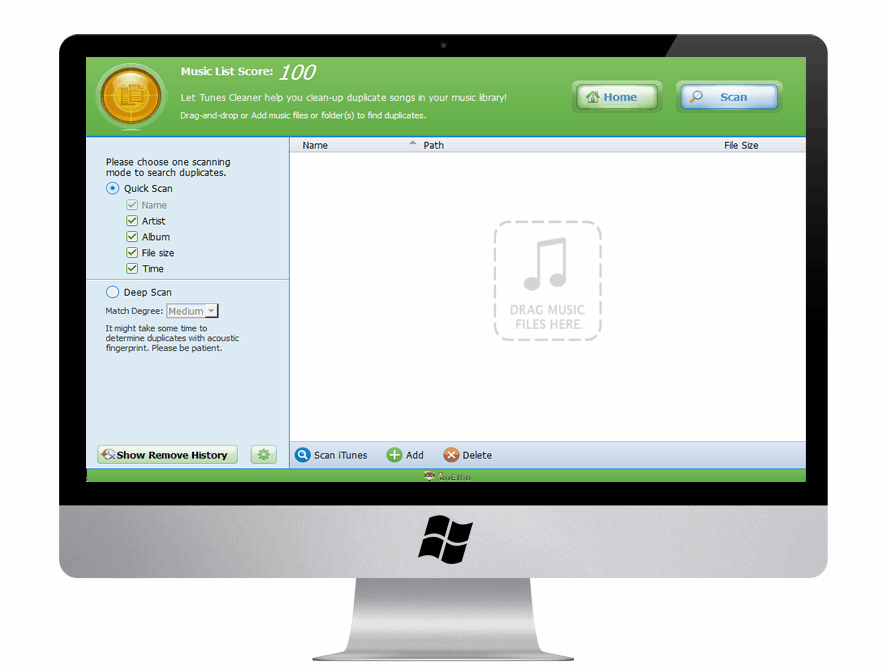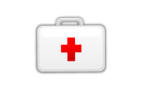 iTunes health doctor
Creative scoring system to display the health status of iTunes music library.
Creative scoring system.
Its initiate scoring system displays iTunes music library health before and after cleaning and lets users get more real intuitive feelings in the process of manage iTunes library.
Apply fixed music tags to iTunes
Click "Apply" button and add music tags to iTunes library, allowing you to backup unfixed music files because of an accident or for future fixing. Therefore users can again finish repairing these unfixed music files from break point.
Show Music library health
Analyze and show how messy iTunes has become and score the health of it.
Display iTunes health
The creative scoring system of imElfin Tunes Cleaner brings more fun and user-friendly features to detect the healthy status of iTunes music library.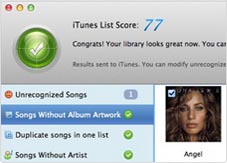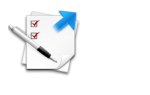 Easy to clean up
Save more time to enjoy iTunes music and no need to worry about mistakenly deleting songs.
Super simple operations
imElfin Tunes Cleaner for Win shows fresh green interface and user-friendly design, which allows you to quickly and easily manage music collections.
Intuitive experience
The clean-up result of fix and remove songs is to be quantified by scores. The more you manage iTunes, the more healthy it is!
1-click repair
Fix mislabeled song tags automatically and delete duplicate songs with a simple click.
Display specific music files
Display music files in specific items for easy to understand processing.
The No.1 of iTunes duplicates remover.
The 1st iTunes duplicates remover automatically find, clean, fix iTunes music library as well as external music folders.